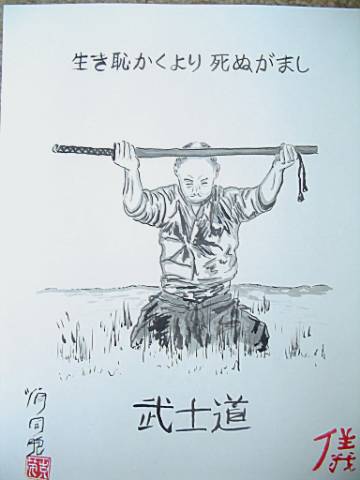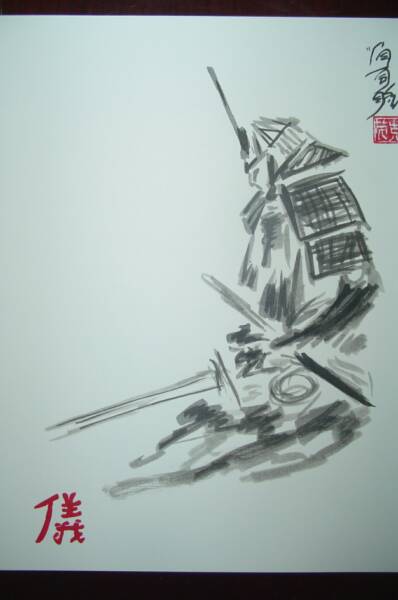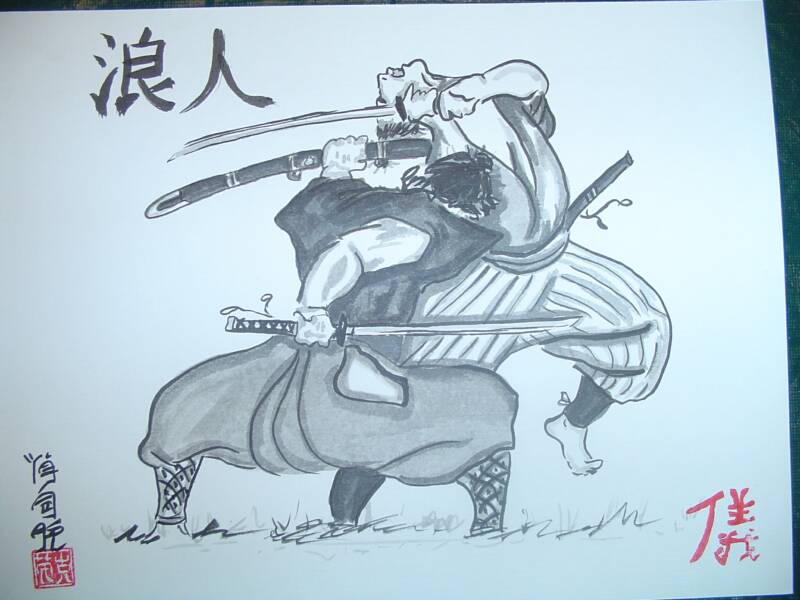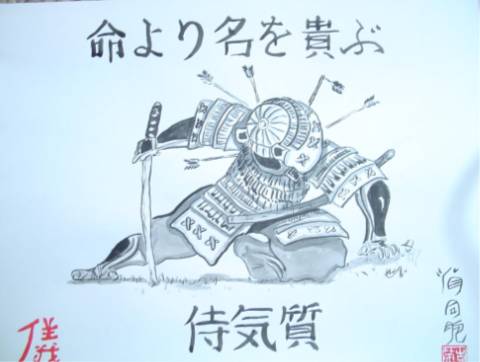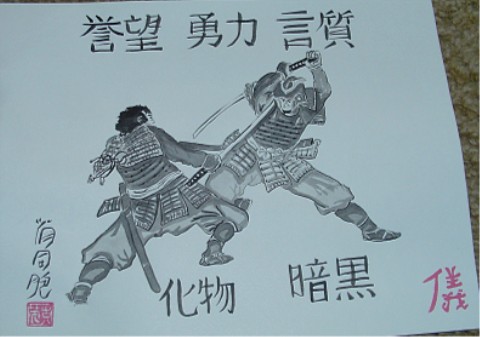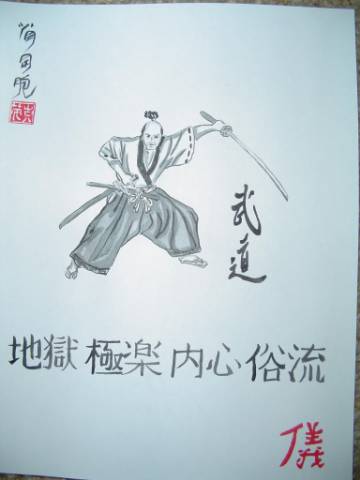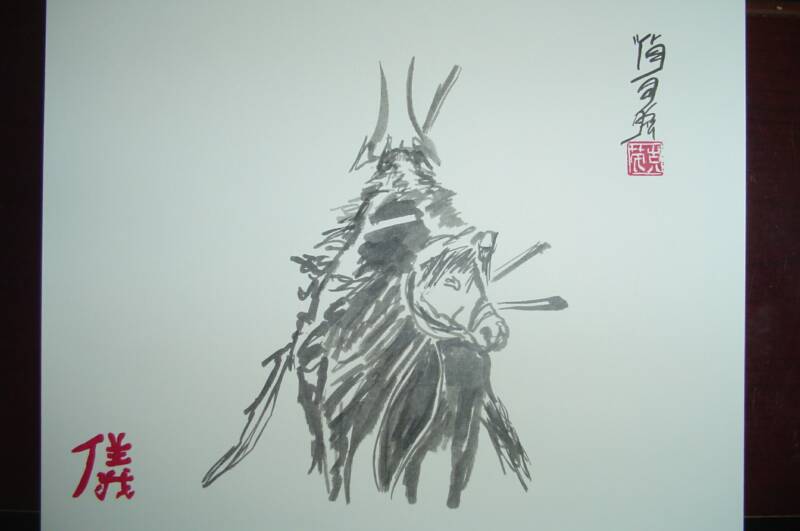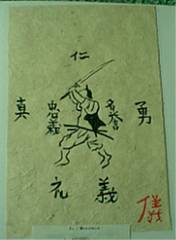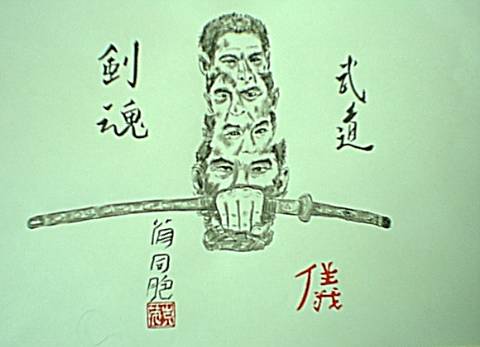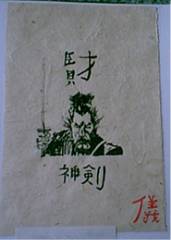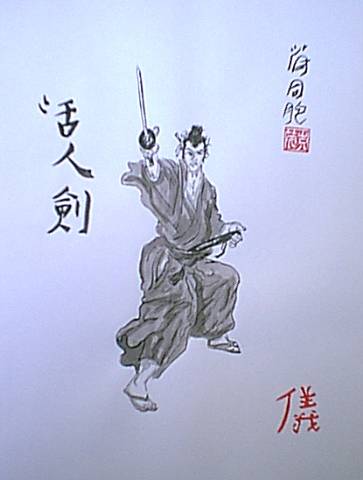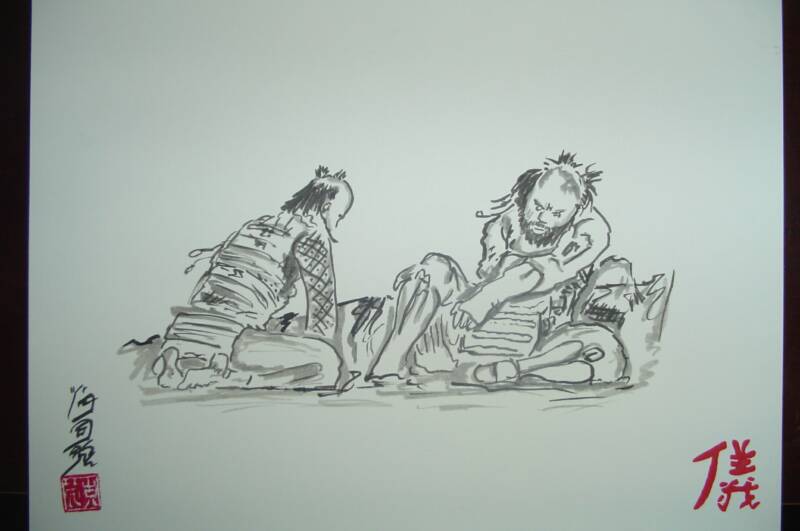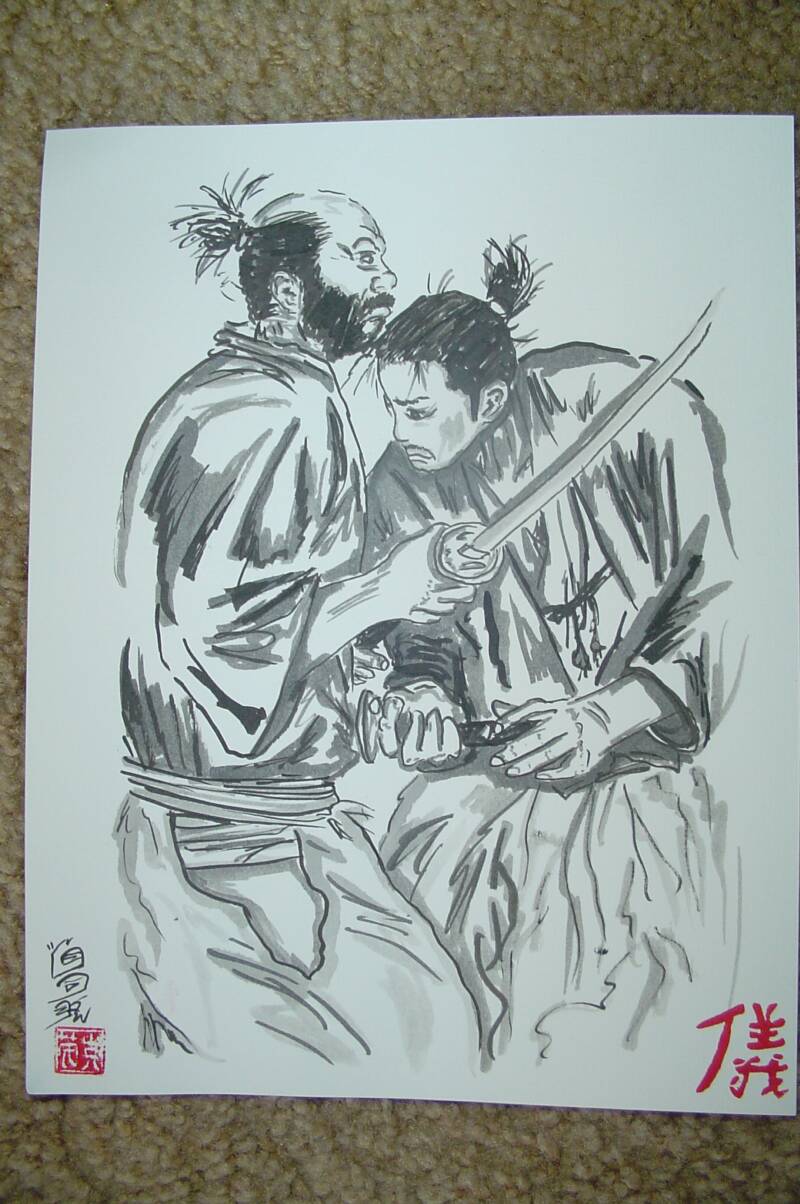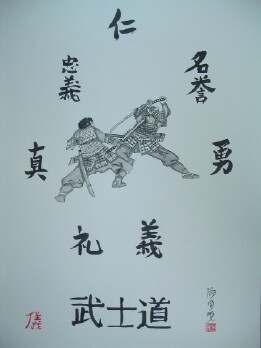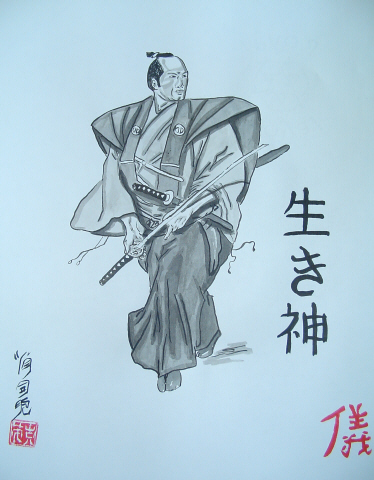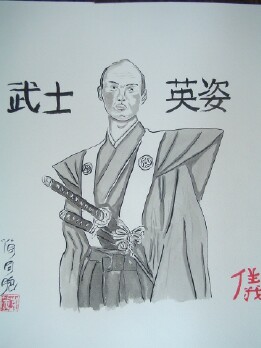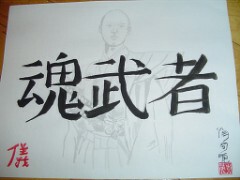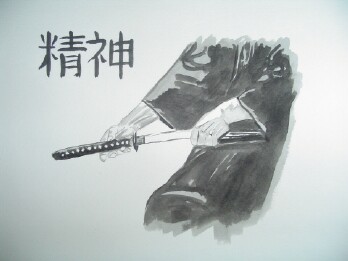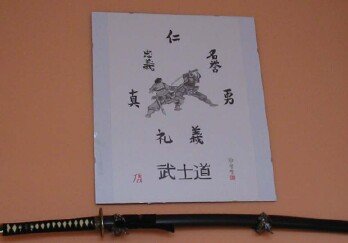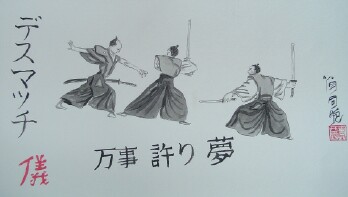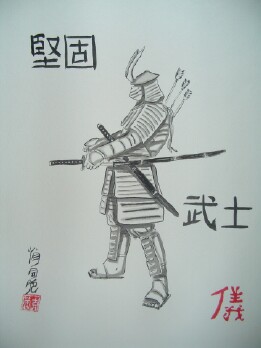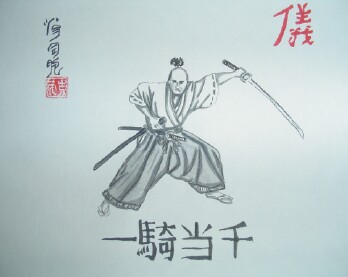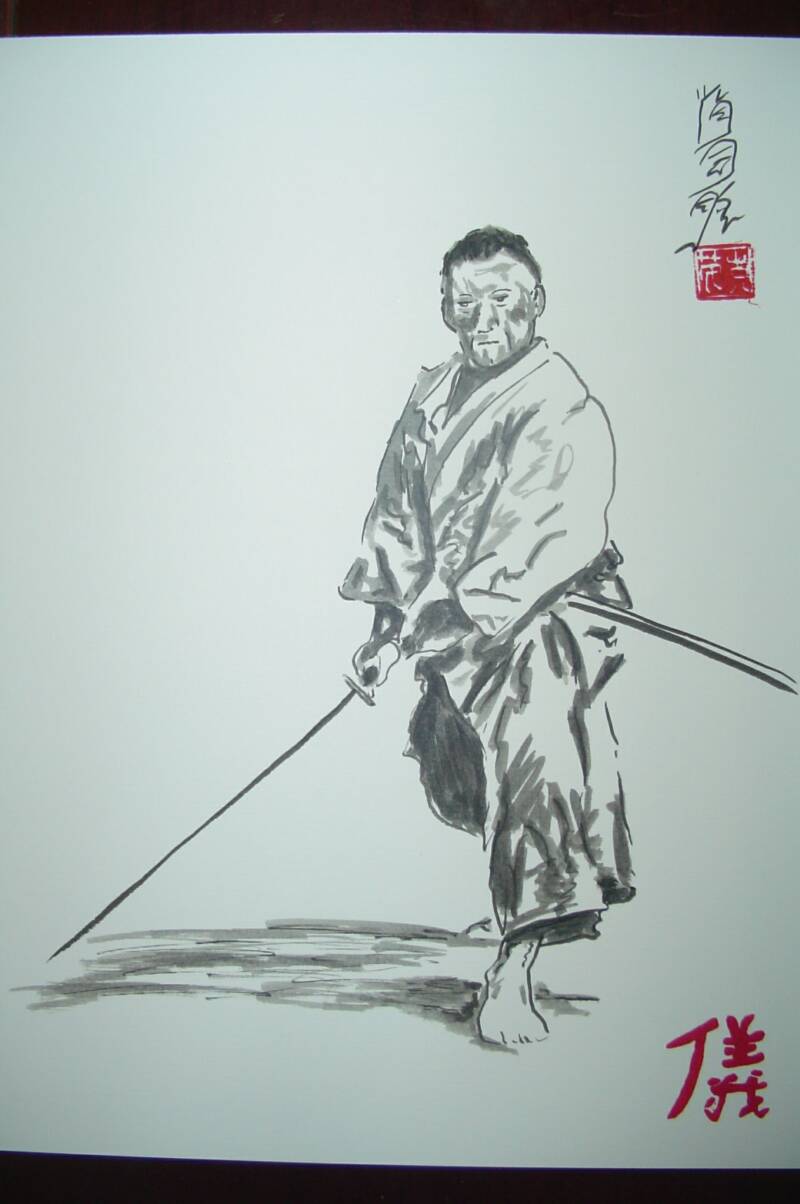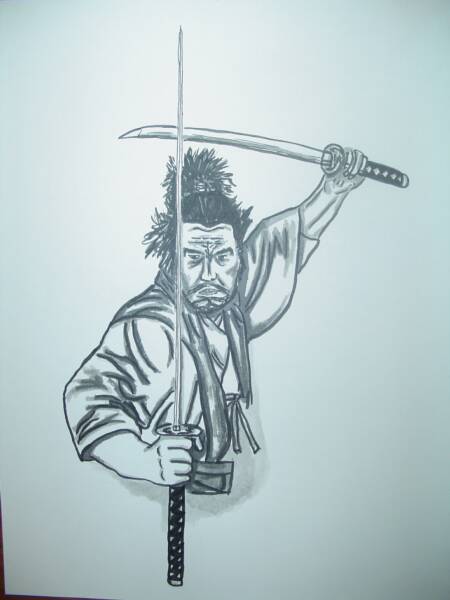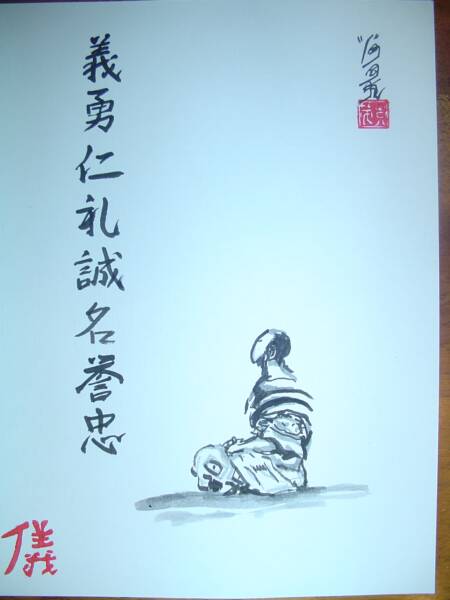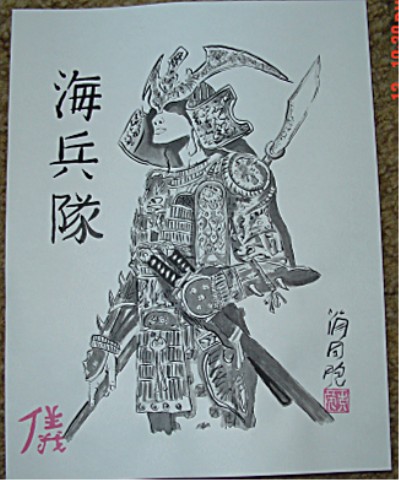 The seven virtues   samurai small handmade paper

$8.00

Kensai - man of abilty shinken devine sword

small handmade paper

$8.00

Samurai fight ...  with kanji  Budo Tamasii

Warrior Spirit   $20.00

Musashi  with kanji , Katsujinken ,, life giving sword

$25.00

Many faces of Musashi as his soul and sword are one,  Kanji to the left , sword soul and to the right budo ...

$25.00

Here are two pieces done for a military man with kanji ... A fierce Samurai  and 2 samurai in battle

I do alot of custom work and tattoo design

If you love Samurai here is a piece that has it ... A samurai on a battlefield riddled with arrows .

inochi yori na wotattobu

(To value honor above life )

And at the bottom is the kanji samurai katagi (spirit)

$25.00

Here is another Samurai piece ..Next to the samurai is the kanji for Budo .. warriors way..

Under him is: jigoku gokuraku naishin zokuryuu

Hell and heaven are in the hearts of men

$25.00

Another great samurai piece ..  There soul, there sword, there honor ..

Kanji Above ; Ikihaji kaku yori, shinu ga mashi

Better to die than live in shame

Kanji at the Bottom ; Bushidou

Samurai chivalry

$25.00

Samurai with kanji , kanji left (bushi) warrior

kanji right (eishi)  noble figure 

$30.00

Saumrai transparent wash , kanji ,(kon musha) spirit warrior

$30.00

A great piece of art of a sword being drawen from the saya (scabbard) kanji ,(seishin) mind , soul , heart , spirit , intension

$25.00

A friend from Romania asked to have  this art piece done , 2 samurai fighting , with the kanji 7 virtues $100

Two samurai engaged in a fight ,one will live

$30.00

3 samurai fighting , kanji to the left (desumacchi) fight to a finish

kanji at the bottom (banji bakari yume) all things are merely dreams  

$30.00

Strong samurai , battle ready and a veteran

kanji left (kengo) solid , strong

kanji right (bushi) warrior  

$30.00

Samurai sword drawen ,  kanji at the bottom (ikkitousen)  matchless warrior , mighty combatant

$25.00

Here is a  piece of a samurai . Very elaborate as he strides forward preparing to re-sheath his blade the kanji to the right (ikigami) living god . For the great presence of the samurai

$ 30.00

Here we have a samurai piece . Two warriors in battle for life and death with the kanji (ronin) masterless samurai or rogue samurai. 

$ 30.00

Miyamoto Musashi's / sword art  (add kanji to your art $5 more just ask)  piece not signed yet but will be .                     

$ 30.00

Iaido art , Blade drawen precise one simple cut.

$ 30.00

Samurai art.. Resting from the battlefield

$ 30.00

Samurai art.. Horseback with nagamaki

$ 30.00

2 battle ridden warriors resting

$ 30.00

Samurai sitting in contemplation with 7 samurai virtues

$25.00